Posted: September 2nd 2021
OUR ANNUAL SCHOOL BUS PRIMER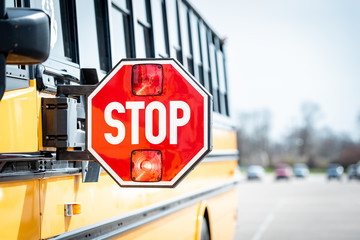 Transport Canada reminds us that September is the most dangerous month for pedestrians. Back to school may be the most wonderful time of the year for exhausted parents, but it is also the most dangerous time for our kids. This September, let's make adult drivers do the real adulting and be responsible for child safety on our streets.
We know that distracted driving is the biggest threat to our kids when they get on that bus. Blow-bys, or when drivers fail to stop for those flashing lights and sign, puts children in immediate and grave danger.
Let's count the ways distracted driving puts everyone's child in danger:
Smart Phones: in the hands of drivers are a threat to everyone on our busy roads. Drivers have one job behind the wheel. Texting and talking must wait. For more information, follow this link to Martin Law's recent blog two phones one very distracted driver;
Infotainment Systems: are bright, flashy and addictive. But just because your ride has a touch screen with GPS, stereo, online shopping and gaming, doesn't make it safe to use when behind the wheel. Put it in park before you play. Better yet, set your preferences before you leave the driveway and keep your eyes, hands and mind only on the road. For a deep dive into onboard infotainment check out Martin Law's blog infotainment injury;
Fast Food: who hasn't run late and missed breakfast. But juggling a hot cup of coffee and a donut or breakfast sammy behind the wheel is not a good plan. Make driving your only focus for that morning commute;
Fur Babies: demand love and attention 24-7. They don't understand that you can't play behind the wheel. But you do. Keep pet rides to needed trips only. Please safely secure your pet in the backseat. For a closer look at pet distraction read Martin Law's blog canine as your copilot; and
Your Kids: tired, cranky and fighting in the backseat, they easily pull eyes and mind from the road. When they run late, miss the bus, and argue with you as you try to rush them to school on your way to work, your mind and eyes just aren't on the road. As the registered owner of that vehicle and the responsible driver behind the wheel, you are responsible for the conduct of your passengers including your kids. And you are always in control of how you respond to stressful backseat brawls. Pull over in safety to a parking lot and calm down. Never let bad behaviour escalate to the point that it impacts your ability to drive in safety. To find out just how bad it can really be, see Martin Law's recent blog kids behaving badly.
Back to school safety starts with making small choices that have big consequences for child safety on our streets.
This school year, we can all resolve to be part of the solution and drive smart.
Let's be ready for back to school by putting down the phone and putting an end to distractions in the car.
The buck stops with adult drivers to stop for that bus and protect our kids.
Distracted Driving Tops the List
It's That Time Of Year Again