Posted: June 2nd 2023
SHOPPERS BEWARE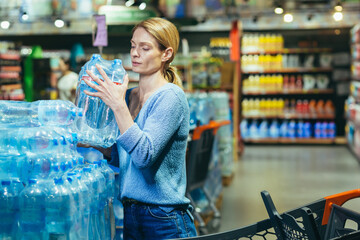 Every big box store and grocery store has them. Wooden skids stacked sky high with goodies. Blocking every shopping aisle. Narrowing the aisle so it's barely passable. Making an obstacle course of every shopping trip. But skids aren't just an inconvenience. Skids are a serious threat to shoppers.
Why do retailers do it? Why do franchise owners and managers junk up their stores with big ugly wooden skids?
Skids slow the quick budget shopper hoping to just pop in and out for a bag of milk. They make us slow down and force us to look at the 'deals' stacked on the skids. We wind our way through that store and pick up more than we intended before we hit the register. And with slim profit margins on most basic items, owners can't afford to keep extra stock hidden away in the back loading bay. Expiry dates, limited flyer sales windows and short staffing mean owners pile it all on and move it out onto the floor. Those ugly wooden skids were never designed or built for food display. But skids have been repurposed for exactly that job. In most cases, there are just as many skids on the floor as there are rotating through the bay. That's just business in today's competitive grocery and retail market. But it's created a real danger and threat for consumers.
Trips and falls over skids lead to complex fractures and concussions. Heavy items can and do fall on the heads of unaware shoppers and their children. Store injuries are serious injuries and will severely impact an innocent shopper's quality of life.
Any business that invites you onto its property is required to keep that property reasonably safe. You have a reasonable expectation of safety when invited into a store. The retail norm used to be merch safely and orderly stored on shelves with clear and generous aisles permitting safe passage for shoppers and carts. Managers took pride in clean and neat stores where their customers could easily find what they're looking for. Those days are gone. Now customers enter a warehouse. They enter without the safety equipment and training needed to navigate a truly hazardous environment. When a business purposely places huge loaded skids in aisles, it invites judges and juries to find that business recklessly disregarded its duty of safety to its customers. This may attract an additional and substantial costs award. Risk management used to mean minimizing the chance of injury to the innocent. Now it means playing the odds. Routine customer injury is a known risk willingly assumed to maximize sales and cut payroll. Practical business pressures are a reality. Retail is a tough business. But those pressures should never be an excuse for recklessly endangering the health and safety of customers.
Falls are also a tough business for the injured and for our stressed health care and emergency care teams. Falls are the most common cause of injury hospitalizations in Canada. Today's rough warehouse shopping experience ain't improving that reality any time soon.
If you have been seriously injured by a skid in a big box or grocery store, know that you have options. Your life will be seriously impacted by your injuries. Your family, job, income and quality of life will suffer when you suffer serious trip and fall injuries.
Get immediate medical treatment for those injuries. Then see your family doctor for follow up care. Check out Martin Law's companion blog here for a practical checklist for those injured in slips and falls.
Then call your experienced community injury lawyer for your Free Consultation.
Store injuries are serious injuries. Those injuries can be severe and life changing. Don't dismiss your injuries and loss just because you tripped and fell on a stupid skid on your weekly grocery shop. Don't let anyone tell you that your injuries count for nothing just because they happened in your local grocery store or big box store. Those skids should not have been there. Hazards are hazards.
You are not alone. Know there is helpful information and support available for you.
Serious Summer Falls Are Real
Sunshine Trauma Season Part One