Posted: April 1st 2019
BICYCLE SAFETY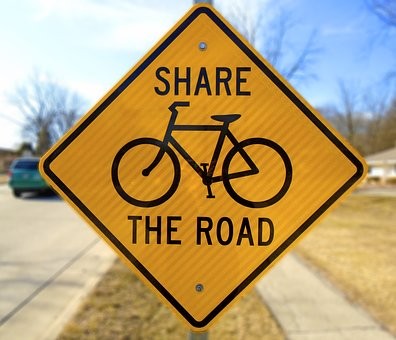 The bright spring weather encourages all of us to get outside and welcome the sun. We dust off the bikes and take to the streets. When the snow melts and the sun shines, the roads call. But cyclists are vulnerable on our roads. They are not protected by the cage of an enclosed vehicle and can't benefit from a vehicle's basic safety features like seat belts and airbags. Bicycles are smaller than vehicles and less visible to moving traffic. And despite social messaging and hashtags to share the road, drivers often fail to think of vulnerable cyclists around them.
Dooring happens when a driver or passenger opens a car door without first checking to see if a cyclist is coming. When a cyclist strikes a car door and flies over the handlebars and lands on the road, on a car or in the path of oncoming traffic, severe and life threatening injuries happen.
Those injuries can include serious orthopedic injuries (broken bones), brain injury including concussion, traumatic brain injury and skull fractures, spinal cord damage, nerve damage and skin degloving.
Dooring can injure motorcyclists, pedestrians and joggers as well as cyclists.
While every crash is unique, drivers have a duty to operate their vehicles in safety and this includes opening car doors. Drivers and registered owners of vehicles are also responsible for the conduct of their passengers. Even when those passengers may be children and likely to swing open that door without thinking of the consequences.
Recent advancements in driver assist, sensors and radar may one day reduce the number of injuries by preventing the driver and his passengers from opening a door when a cyclist is near. But the reality is that the vast majority of cars today don't have this feature and it will take time for it to trickle down and become a standard safety feature.
Social media also actively promotes the Dutch Reach: when a driver learns to use his opposite hand to open the door forcing a shoulder check to look for cyclists. While this slowly makes inroads with conscientious and informed drivers, most drivers have not adopted this safe driving technique.
If you are a cyclist, motorcyclist or pedestrian, and have been doored or hit by a car, what should you do?
Here are Martin Law's Top 5 Tips:
Get Medical Assistance. In a vehicle on cyclist strike, chances are an ambulance has already been called. Get the emergency medical help you need. It is essential for your well being. It also documents your injury and starts a written record of your injury and treatment. After you get treatment, follow up with an appointment to your family doctor. Your family doctor is your key day to day treatment provider and your primary medical record keeper.
Make a Police Report. This usually happens at the scene or even at the hospital. Ask the officers who take your statement for their I.D. including names, badge numbers and which police department they work for. Ask for one of their public information cards with station phone number. Get a copy of the report when it is completed. It should have the driver's name, address and insurance information on it. You are entitled to this information. You need this information.
Notify the Insurance Company. You should notify the car insurance company in writing within 7 days of the crash. If you are unable to do so because you are hospitalized and under treatment, then you need do this as soon as reasonably possible. Never assume that the at fault driver has notified his own car insurer. You notify the insurance company.
Take Pics. Even better if family or a close friend takes them for you. Document your injuries. Bruises and cuts will fade with time. Casts will be removed. Record your injuries before they are no longer visible.
Keep a Record. Take time to write out in detail exactly what happened that day and how the crash happened. Go through it step by step. The details are fresh in your mind now. Details fade with time.
When you've been hit by a car, protect yourself and call an experienced injury lawyer.
Martin Law can be reached at telephone 613 966 3888 or 1 888 889 7226.
Prefer to contact us online? Find us at www.injurylawyerontario.net.
Use our handy online contact form right here.
Cyclists have every right to use our roads and should never be treated as second class citizens.
Call us and find out where you stand.
What Happens When Vehicles Won't Share the Road
Have You Been Hit By a Car Door?