Posted: June 6th 2022
ROAD TRIP REALITY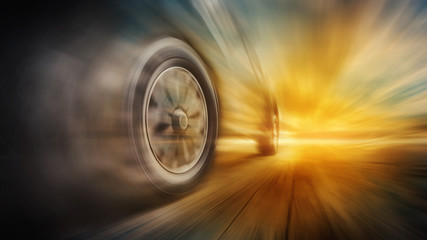 Why isn't summer safer? Our first responders, emergency room nurses and trauma teams know why. Let's get everyone in the know. Let's find out why our summer roads are so dangerous.
5 points make that summer danger clear:
Speed: When there's so much to do and so little time to do it, Canadian drivers put the pedal to the metal and drive. But there's a terrible price to be paid for fast cars and speeding down the open road. We know that speed kills and the freedom to enjoy our roads must be done responsibly and safely;
Traffic: Our summer roads are packed to the max when everyone and their dog try to escape the cities and 'burbs for the beach. Cyclists, pedestrians and children also rush to the streets to while away those long summer days. Traffic makes trouble. When it's busy, all drivers must pay full attention to the road;
Distracted Driving: We have one job behind the wheel. Just drive. Smart phones, complicated infotainment systems and screaming kids pull our eyes and minds off the road. Driving a car is a huge responsibility. When we take the wheel, we take the lives of everyone else in hand. That's a sobering thought. It should be. Injury lawyers see the broken bodies and broken lives of innocent drivers and pedestrians. We know the score. We wish all drivers could see what we see. We wish all drivers knew what we know;
Drunk Driving: Booze and cars never mix. MADD Canada reminds us that impaired driving destroys the lives of thousands of innocent drivers and pedestrians each and every year. Generations of Canadians have been impacted by drunk driving. If we want to arrive alive, we can't start the party and celebrate summer until we arrive at our destination; and
First Timers: Summertime is a heck of a time to hook up a camper or trailer for the first time to your truck. Towing is not for newbies. Ask experienced RV'rs and campers for help. Take a course. Do your homework. Learn the ropes before you head out hoping for the best. Don't let your need for escape put you and everyone you meet in danger. Be smart before you tow.
Everyone craves the summer sun and needs a break. But summer fun comes with responsibility. The next time you answer the call of the open road, take care before you join the exodus to cottage country or the local beach. That summer road is deceiving. Drive safe for safety's sake this summer.
If you've been seriously injured on our summer roads because another driver put his needs before your safety, call your experienced community injury lawyer.
Martin Law always provides a Free Consultation so you can find out where you stand.
Here Comes Summer
Are You Ready?