Posted: April 3rd 2023
YOUR PRACTICAL CAR CRASH CHECKLIST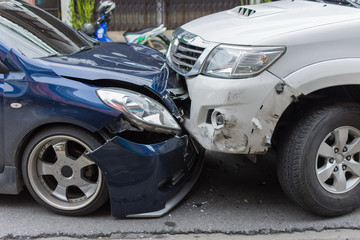 Serious car crashes happen every day on our local roads. When the worst happens, you need to know what to do.
Practical is valuable.
You asked for another easy to read, no nonsense guide. Martin Law delivers.
Here's Martin Law's updated car crash checklist:
Go to the Hospital: serious injuries are the norm in a car crash and an ambulance is likely already on the way. But sometimes shock and the unwillingness to accept that a car crash has actually happened, can make some victims deny obvious injuries. Immediate emergency medical attention is necessary. Getting medical attention is essential for your well being. It also documents your injury and starts a written record of your injury and treatment. It's critical. After you get emergency treatment, follow up with an appointment to your family doctor. Your family doctor will be your key day to day treatment provider and your primary medical record keeper;
Call the Police: they may already be on scene or may meet you at the hospital. Ask the officer who takes your statement for I.D. including name, badge number and the department worked for. Ask for a public information card with the station phone number. Request a copy of the full, long form Motor Vehicle Collision Report. This is the long page that has the crash diagram on it. It will have the at fault driver's name, address and insurance information as well as critical witness information and list any charges laid against that at fault driver;
Did You Know? If you think you may have contributed to the crash or even caused the crash, you need to call a criminal defence lawyer right away. This is extra important when someone has been hurt. Never admit guilt at the scene or at the hospital. You may not know what actually happened and you could be wrong. Let the officer know you wish to cooperate but be firm about speaking with a defence lawyer first. Also make a call to your insurance company as admitting liability can impact your coverage. Make those calls;
Call Your Own Car Insurance Company: and let your car insurance company know about the crash. Statutory Accident Benefits (SABs) are available in Ontario and, along with other benefits under your policy, may help pay for some immediate medical and rehabilitation expenses. You paid a hefty premium for them and you deserve them. Check with your agent or broker to confirm you had also purchased the optional, additional SABs. If you have them, use them for your recovery. If you haven't had a car crash yet, and are just reviewing this checklist to keep for the future, call your insurance agent now and find out the price of adding optional, additional accident benefits coverage. Most drivers in Ontario are shocked to discover standard basic coverage is not what it once was and are equally shocked to discover the price to top up and increase that coverage is not very expensive. Multinational car insurance companies and their investors count on strapped Ontario consumers to only pay for the cheapest package available. Then they count on us to never take the time to review that policy or shop around when it is renewed each year. We've been conditioned to say no when our agent offers more coverage for fear we're being sold more than we need and spending more than we can afford. But Ontario drivers need real coverage before that crash happens. Be a smart insider consumer and find out how little it costs each year to get the extra coverage you need. Once you've taken care of yourself, let your family, friends and your Ontario MPP know about it;
Take Selfies: your bruises, cuts and scrapes will fade with time but if you can see them now, you can feel the pain now. Capture your visible injuries now. Ask a trusted family member to take those pics;
Bag It: carefully bag and store your torn jeans, shirt, glasses, damaged hearing aid, watch, phone and any other clothing or personal items damaged in the crash. Don't wash those clothes. Don't iron them. Just leave them as is. Place them in a safe, easy to find spot in your home. Write a note to yourself to help you remember where you put them;
Take Notes: set aside some quiet time to write out exactly what happened that day and how the crash occurred. Even if you have little memory of the crash, write down what you can. Do your best to go through the happening of the crash step by step including the events leading up to it and what happened after. The details are fresh in your mind now. Your written account of what happened to you is your property. You don't have to give this to an insurance adjuster or investigator if you don't want to. You can choose to share it with your lawyer instead and she can help you to decide when to share and with whom; and
Keep It: put all receipts for out of pocket expenses in a ziplock bag. If in doubt, keep the receipt. Another simple practice is to get a cheap notebook and tape or staple your receipts in each day. Don't forget to use that notebook as a diary. Write down what your day was like living with your injuries. Record your medical appointments including the name of the doctor you saw, what she told you and the name of any prescription. Record the impact of your crash injuries on your day to day life and your family's lives. If you can't take your kids or grandkids to hockey practice because of the pain, write it down. This is your diary of your pain and your loss. It is your property and you have the freedom to choose to share it with your lawyer.
Know Your Lawyer:
Call your local experienced injury lawyer to discuss your injuries. Some injury lawyers offer a free initial telephone consultation. Make sure you are talking to a real lawyer and not an assistant. Protect yourself and make the call.
Car crash claims have a limitation period - a time limit - when a lawsuit must be started or you risk losing your right to obtain compensation for your injuries and loss. Call a lawyer to get this timely information for your case. Don't put it off and risk running out of time.
For more information contact: Martin Law Office at http://www.injurylawyerontario.net
Shelley Martin, Martin Law Office, Belleville, Ontario, has been in practice for more than 20 years. She is Your Community Injury Lawyer for Central & Eastern Ontario from Picton to Peterborough and all points between. Called to the Bars of Ontario and Alberta, she is a member of the Ontario Trial Lawyers Association and graduate of Queen's University L.L.B. and B.A.(Hons). She completed her legal training and articles in Toronto, Ontario, with Dingwall, McLauchlin. In Alberta, she served articles of clerkship with the Alberta Court of Appeal & King's Bench (Calgary), and completed articles with Alberta Justice, Appeals and Special Prosecutions. Born and raised in Bancroft and Tweed, Ontario, she is proud to call both North Hastings County & the Bay of Quinte her home.
When the Worst Happens
Practical is Valuable