Posted: February 2nd 2022
SHATTERED WINDSHIELD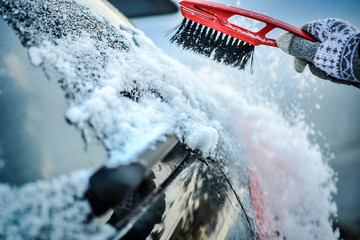 Each winter unsuspecting drivers are struck by flying ice. Some get by with paint chips, dents or a cracked windshield. But others suffer severe trauma and scars to their face and neck, concussion, eye injury and even lose control of their vehicles when that ice smashes through into the cabin. When busy commuters fail to clean the snow and ice off their rides, innocent motorists bear the consequences.
What To Do When It Happens To You?
When it happens to you, and you are injured by flying ice:
call the police and get the emergency medical help you need;
if at all possible, get the licence plate number of the at fault vehicle;
if the at fault driver stops, exchange insurance information;
report the crash and your injury to the local police or your collision reporting centre;
have a close friend or family member take pics of your injuries and the damage to your car;
keep a notebook or a diary of your pain, lost work and wages, out of pocket expenses and receipts, and the impact of those injuries on your life and the lives of your family;
write out the happening of the crash in as much detail as possible. Do it as soon as you safely can once you've been to emergency and your doctor. Details fade with time so it's important to write it out sooner rather than later;
keep your damaged clothing and any other personal items. Don't wash them or try to clean them up. Store them in a paper bag or cardboard box in a safe place in your home where you can remember where you put them; and
call your experienced injury lawyer to find out where you stand. There are time limits to start an injury lawsuit. Call early so you are aware and know what to do.
Experienced injury lawyers know that accidents don't just happen.
A crash is a crash and never an accident.
Mother Nature is not to blame for another driver's laziness.
If you've been seriously injured by flying ice or snow, then call your experienced community injury lawyer.
Get the information you need.
Flying Ice
Broken Windshield Broken Life