Posted: September 8th 2017
TRUCK ON CAR CRASHES ARE DIFFERENT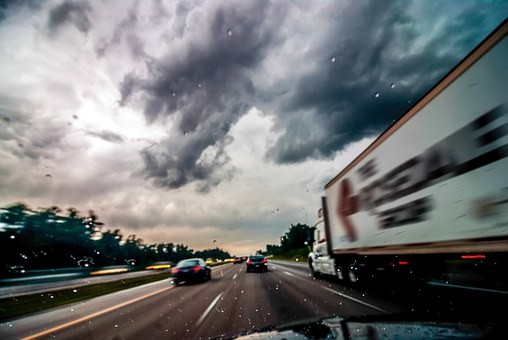 Everyone's been there. Driving along in your small car and discovering that you are surrounded by large trucks intent on getting to where they're going. Make no mistake: the majority of truck drivers are incredibly conscientious, courteous and skilled professionals. Most have seen everything on the road. And that experience is gold for both the trucker and the drivers around them. But some inexperienced young truck drivers and the demands of the industry, whether intentional or perceived by drivers, are leading to devastating truck on car crashes.
Trucking in Canada is a $65 billion dollar industry and all Canadians are completely dependent on their hard work and long hours to put food on our table, gas in our tanks and consumer goods in our hands. Canada wouldn't function if it weren't for truckers. In a country this large and vast, it's just that simple.
However, cracks are appearing in large truck safety. In Canada, it is estimated that approx 15% of highway deaths each year are due to collisions involving large trucks (TIRF 2015; TIRF: Road Safety Bulletin: A Question of Size, 01/2017, Daniel R. Mayhew, Robyn D. Robertson, and Stephen W. Brown). Large trucks are over-represented in highway deaths. And motorists are much more likely to be killed or seriously injured in large truck crashes.
Why?
Trucks are designed with greater ground clearance leaving passenger cars at deadly risk of under-riding trucks in crashes.Trucks also just weigh so much more than passenger cars. Trucks are statistically more likely to be involved in multi-vehicle crashes thus spreading the injury exponentially.
And truck driver error is making the news:
Young Male Drivers: of large trucks are heavily over-represented in crash studies. Inexperience is a key factor;
Driver Fatigue: has long been recognized as a major problem in the industry and drivers themselves are concerned about falling asleep behind the wheel. Sleep deficit due to long haul demands, prolonged night driving and predominantly single drivers lagging in sleep and rest compared to fewer team driving pairings, all are problematic;
Distracted Driving: while the dangers of distracted driving and calling or texting behind the wheel is a known major problem with all drivers, it can be even more of a danger for commercial truck drivers dealing with scheduling, tethering to managers, monitoring weather and road conditions and timing deliveries while juggling personal life and personal calls on the road; and
Driving High: while this is emerging as a known concern for all classes of drivers, medical marijuana use for pain control on the job has seeped into the trucking industry and there is concern that the normalization of marijuana use in society is leading us to minimize the risk of impaired driving. (trucknews.com Doctor says fatigue and marijuana challenging for drivers and fleet managers, May 28, 2017).
The industry and its safety organizations are stressing improved, comprehensive driver training, especially for new, young recruits. Some safety tools like electronic on-board recorders, back up cameras, and devices that block phone use, are increasingly available and have been adopted by some in the industry.
But there's a bottom line to this that can't be ignored. Truck on car crashes are different by nature and, tragically, by severity of the crash. It's time to recognize that reality.
If you or your family are injured on the road in a truck on car crash, recognize that your case may be different from a car on car crash. Call an experienced injury lawyer to discuss your claims.
Underride & Driver Error In the News
Size, Fatigue & Distraction Are A Deadly Combination