Posted: July 9th 2021
KIDS IN THE CAR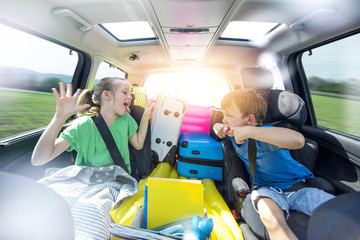 Most of us know about distracted driving. Smart phones. Texting. Even messing with the GPS or onboard infotainment system. Most drivers know. And tragically most drivers still do it. But that phone isn't the only offender. When frazzled parents drive distracted by their kids, crashes happen.
We've all been there. Stuck with screaming kids. Or sniping teenagers. Behaving badly. On a sugar high and bored beyond belief in the backseat. But being there doesn't make it right. And when innocent drivers, pedestrians and cyclists are seriously injured by stressed out parents, it isn't OK. Whether its Mom, Dad or junior in the backseat, meltdowns on the road cause crashes.
Distracted driving is distracted driving. The driver and registered owner are still responsible for the safe operation of that motor vehicle. Kids will be kids may be acceptable under your roof. But it isn't acceptable when it distracts you in your car. Driving is our only job behind the wheel. Multi-tasking doesn't work on our busy highways. Parents juggle so much caring for their kids. But they can't do it safely behind the wheel.
In this summer of revenge travel, more families than ever will be hitting our busy roads with kids in tow. Road trips are the rage. But innocent drivers, cyclists and pedestrians should never be put at risk by families focused only on their own travel fix.
When kids go bad and are absolute rotters on the road, it's time to pull over in safety in a parking lot and take a break. Getting off the road and in park may be the only safe choice. It's got to be better than allowing a bad situation to escalate. Taking your eyes off the road, turning your head, or glaring in the rearview mirror will kill or seriously injure another person.
If all this sounds familiar because you've been hit and seriously injured by a driver distracted by his kids, don't accept that kids will be kids and nothing can be done about it. Driving distracted, whether by kids, pets or phones, is not 'just a thing' to be shrugged off. When it causes a crash and causes you pain, your job, your life savings and your relationships, it's time to find out where you stand.
Call an experienced community injury lawyer who understands that a crash is never an accident.
It's your life. And your future.
Driven To Distraction
Backseat Brawls