Posted: October 3rd 2021
TOP 6 FALL TIPS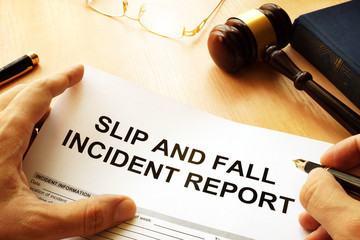 Serious slip and fall injuries happen year round but autumn ranks as one of the worst seasons for devastating falls. When rain makes floors slippery, and store owners fail to maintain their premises in safety, dangerous conditions happen for unsuspecting customers.
The same offenders show up every fall including:
frayed and curled floor runners and entrance mats;
repurposed mats never intended for high foot traffic use; and
slick floors where the rain is tracked in and left unmopped.
When you've been seriously injured in a fall, you need to know where you stand.
Here are our Martin Law Top 6 Fall Tips:
Medical Care: is the first priority so your injuries can be taken care of. It also documents your injury. After emergency, see your family doctor for continuing care and to ensure your pain and limitations continue to be treated and documented;
Pictures: get pics before you leave the scene by asking a witness or bystander to take a quick photo with your own phone of the mat or water that caused your fall. And if you forget, ask a friend to go back to the site and take photos when it is safe to do so;
Take Names: of witnesses. Get names and contact information. Memory fades with time and as months pass, some may be reluctant to get involved;
Take Notes: and keep a record. Start from the beginning and work yourself through that day. Please take the time to do it now before you forget the small things. And know that your notes are always your property. Share your notes with your lawyer so she has as much detail as possible;
Keep It: store your ripped clothes and any other damaged items from your fall. Don't wash or clean anything. Just store them safely in a box where you can find them when you need them; and
Call For Help: call your experienced community injury lawyer for a free consultation. You need information. You are not alone.
Severe fall injuries will have a devastating and lasting impact on your quality of life.
Call an experienced injury lawyer who knows fall injuries are serious and will take your injuries and questions just as seriously.
Call Martin Law For Your Free Consultation.
What To Do When It Happens To You
Our 6 Point Check List